Pardell Electric Inc is proud to employ a diverse group of electricians who all bring different strengths to our company. We are large enough to capably handle large commercial jobs, but are still small enough to operate like a large family. Healthy working relationships foster trust and enjoyment in the workplace, which means better results for our clients. Pardell Electric Inc nurtures staff interests by supporting further education and specialization. As a result, the company is able to provide specialists in the areas of lighting design, full home automation, media, alarm, security surveillance systems, and distributed sound. At Pardell Electric, we work hard and then celebrate together in our joint successes.
Owner/Operator
Peter Pardell manages his company with a wealth of experience and knowledge. Born in Sweden, Peter started working as an electrician twenty years ago in Sweden. Upon immigrating to Canada, Peter re-certified himself in Canadian electrical standards to get his inter-provincial journeyman ticket, and obtained his contracting ticket in 2006. A husband and father of two daughters, Peter has made a life for himself in Victoria and is a proud contributor to his community.
Fleet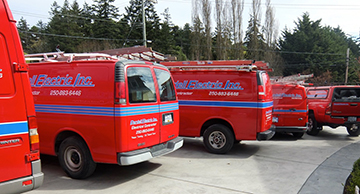 Look around and you will notice our red vehicles everywhere. Pardell Electric Inc has a multi-car fleet equipped for the smallest and largest of jobs. Whatever your needs, you can depend on a friendly, professional Pardell Electric representative to be of service.